Turnkey Projects
Consumable
Blenders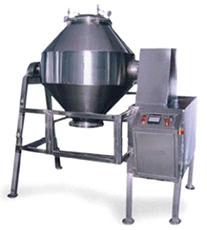 Double Cone Blender
The Double Cone Blender is an efficient and versatile machine for mixing dry powder and granules homogeneously. Two third of the volume of the cone blender is fill to ensure proper mixing. It can be used for Pharmaceutical, Food, Chemical and cosmetic products etc.
Ribbon Blender
The Ribbon Blender is used for uniform and homogeneous mixing of powder, granules etc. Consisting of 'U' shaped trough of suitable dimensions with side plates. Shell of SS304 contact parts and side plates duly M.S stiffened from outside and from inside with S.S. Ribbon arms welded to the main shaft and ribbon blades of dual interrupted type PTFE gland mechanism provided a shaft ends prevents ingress of external powder into the trough and prevents leakages. From the top charging can be done through a hinge able lid (/Rd hinged and 2/3rd fixed hopper or Nozzle can be provide for additional spraying of additives. By bottom discharges slide, iris or Butterfly valve of suitable diameter for regulated discharge.
Octogonal Blender
The Octagonal Blender is very useful machine for pharma industry wherein gentle blending of dry granules or powder is to be done. Consist of SS polygonal frustum. The shell is provided with a rectangular opening at one end and a circular opening at the other. The Circular opening is provided with a SS butterfly valve and a conical adapter to facilitate clamping of the charging drum to the blender. The valve can be operated from the ground level with charging drum in the raised position with the help of a mechanical remotely operated arrangement.